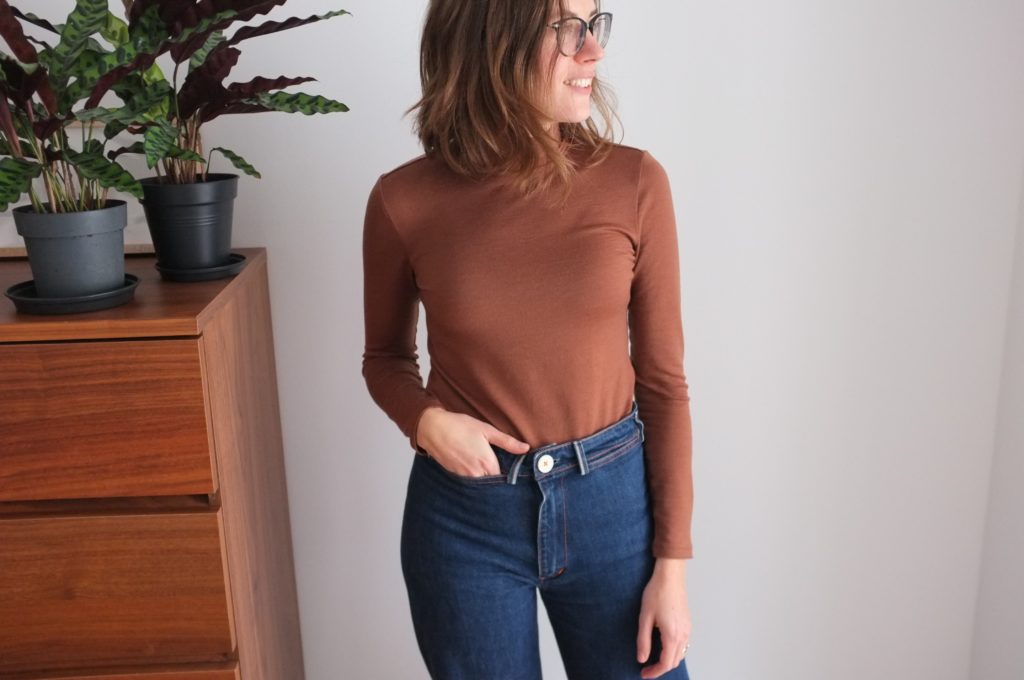 Hello everyone! Wow, it's been a while. I mean, I don't know if anyone notices apart from my mother, who has my blog as her start page and complains regularly that I don't write blog posts anymore but only share stuff on Instagram (give me a follow over there if you are interested).
Anyways, there is a big reason, why I haven't been blogging lately. I'm 24 weeks pregnant and completely lost my sewjo throughout the winter. It was such a new experience for me to not constantly be sewing or at least be thinking about sewing; I just couldn't find the energy or inspiration. Truth be told, I didn't really feel like myself. I guess that's quite a normal feeling for a lot of people in their first trimester. But fear not, my sewjo has come back full force, so I will have more to share in the future.
It's not that I didn't sew anything at all though. I did, but a lot of comfy and practical stuff, that does not necessarily lend itself to an interesting blog post. Which is why I have decided to do a little roundup here of all the pieces I have sewn over the winter, before I move on to the more exciting spring/summer sewing. While I wasn't heavily inspired (or maybe because of it) I did end up with a lot of practical stuff that I wore non-stop throughout the winter.
So what did I make?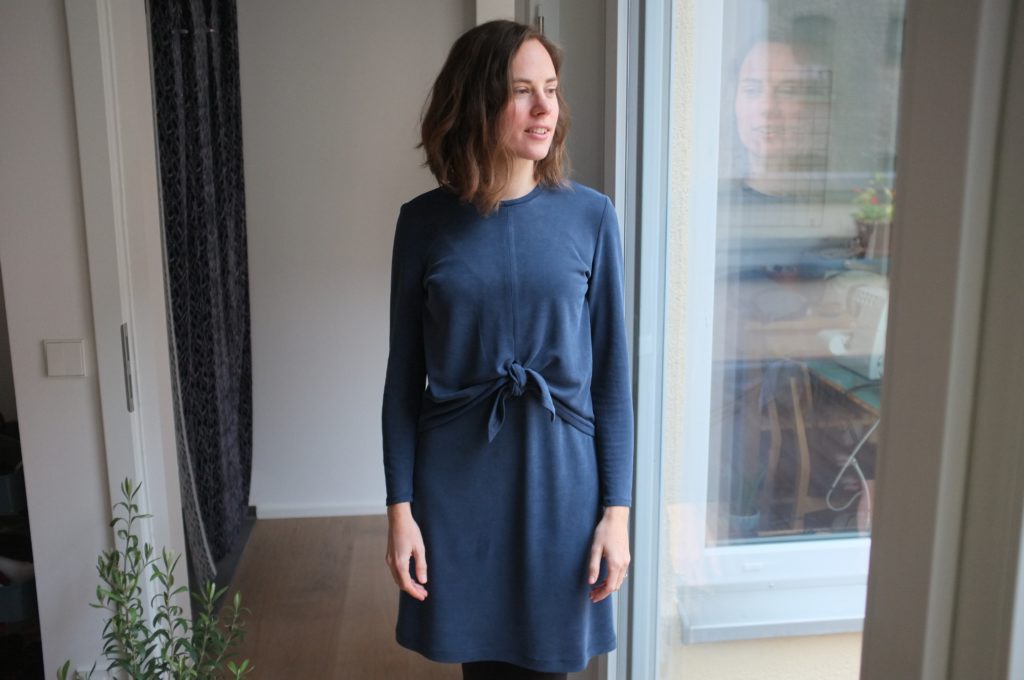 The Ruska Dress was the one reason why I finally decided to get the Named Clothing "Breaking the Pattern" book and it didn't disappoint. The version with the knotted overlay is such a cool design and the plain version is a great staple. I made the knot dress version first in a wonderfully heavy tencel knit. I got it from "Stoffmarkt Holland", a travelling fabric market when it came here to Karlsruhe last autumn, and I wish I had gotten it in all the colours. It's a great fabric to wear and it barely wrinkles, which has made it the perfect dress to wear on business trips. I graded between three sizes to give my hips enough room; other than that I sewed it up as drafted. Some hand-sewing was involved to get the points of the ties to look neat and crisp, which I didn't mind though. It's always worth putting in the extra effort for a nice finish.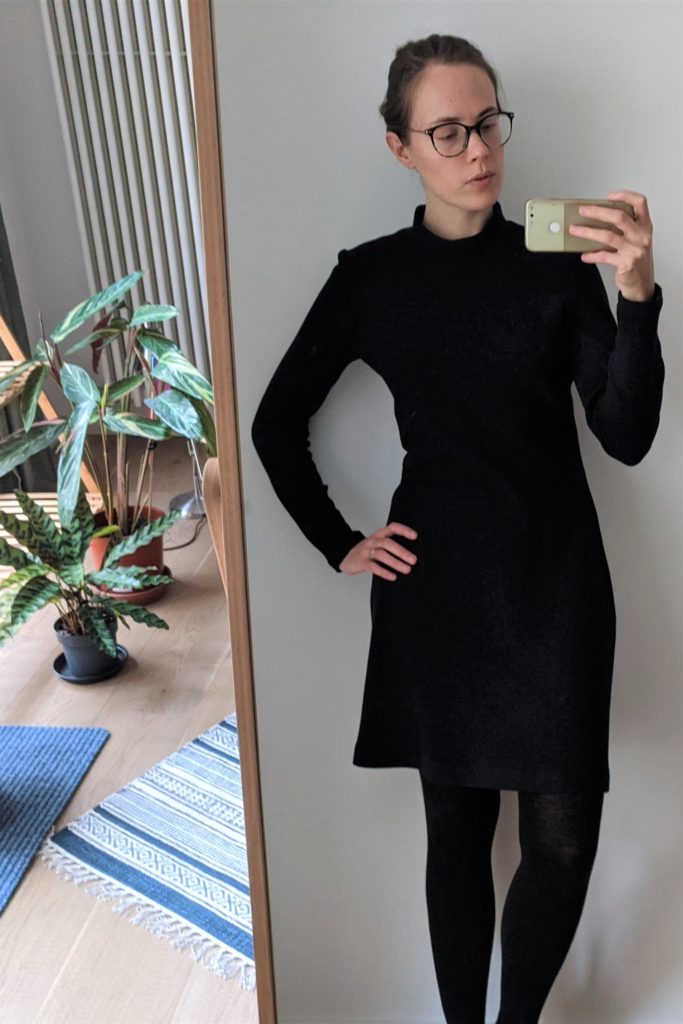 The plain version of the dress is made from a navy herringbone wool knit (which you can't really see in this picture) that I picked up at "Die Stoff Scheune" a small fabric shop close to my parents place, with a great selection of designer deadstock fabric. For this version I left off the overlay and added a little turtleneck, based on the Nikko Top. It has a curved turtleneck, which in my opinion has the best shape! Again another comfy dress, perfect for work on cold winter days.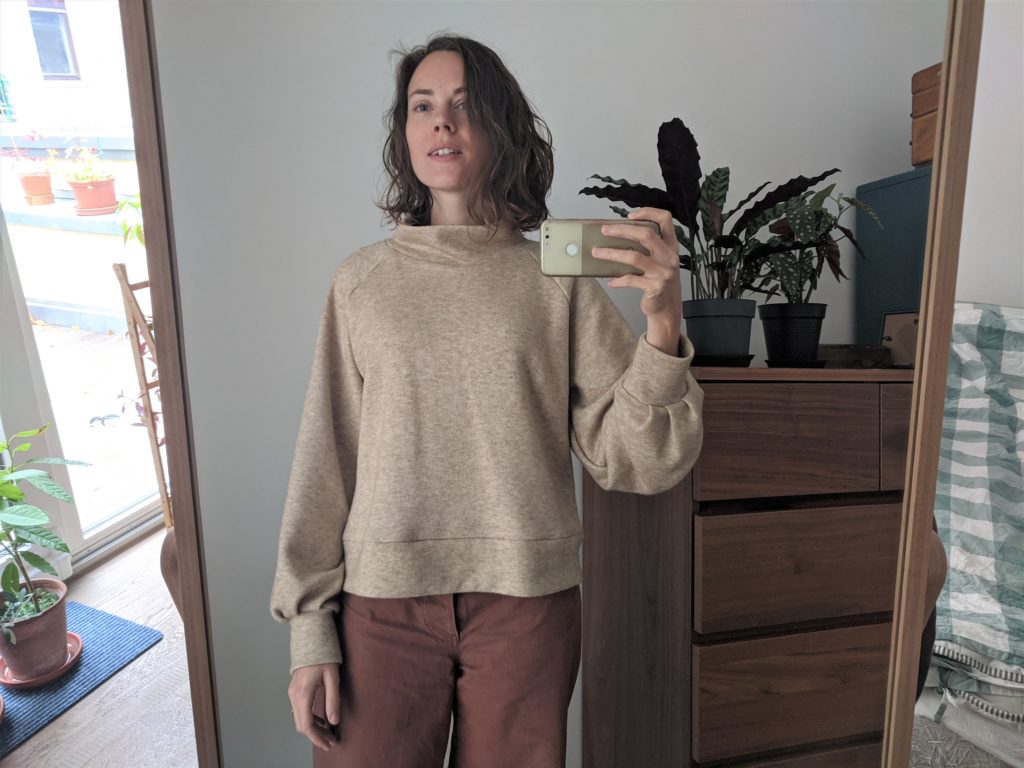 The Toaster Sweater, is another pattern I've been wanting to make for ages. When I found this heavy viscose knit at "Stoffmarkt Holland" I knew the Toaster would be a great pairing. However, I was envisioning something with balooney sleeves and a bit more oversized than the pattern is drafted. So what I did was to sized up and make the sleeves wider and longer before gathering it in in a cuff, slimmer than drafted. I played around with different gathering and pleating options and settled on one box pleat with two knife pleats on each side. This sweater is exactly what I've been wanting to wear all winter; super soft and just very cozy.
The Nikko Top: I can't believe it took me so long to make this pattern. I love wearing turtlenecks in winter and have been experimenting with a lot of different patterns from my stash and also self-drafted versions to get the perfect fit, but never 100% achieved it. Then I tried the Nikko and it was almost there on the first try. Next time I would shape the side seams to follow my figure more but other than that I wouldn't change a thing. It's perfect, especially in this Acorn merino jersey from The Fabric Store. I'm still obsessed with all the brown colours and this is gorgeous; it perfectly pairs with my denim Persephone Pants.
Corduroy has been on my mind all winter, and I'm super happy with the two corduroy pieces that I made.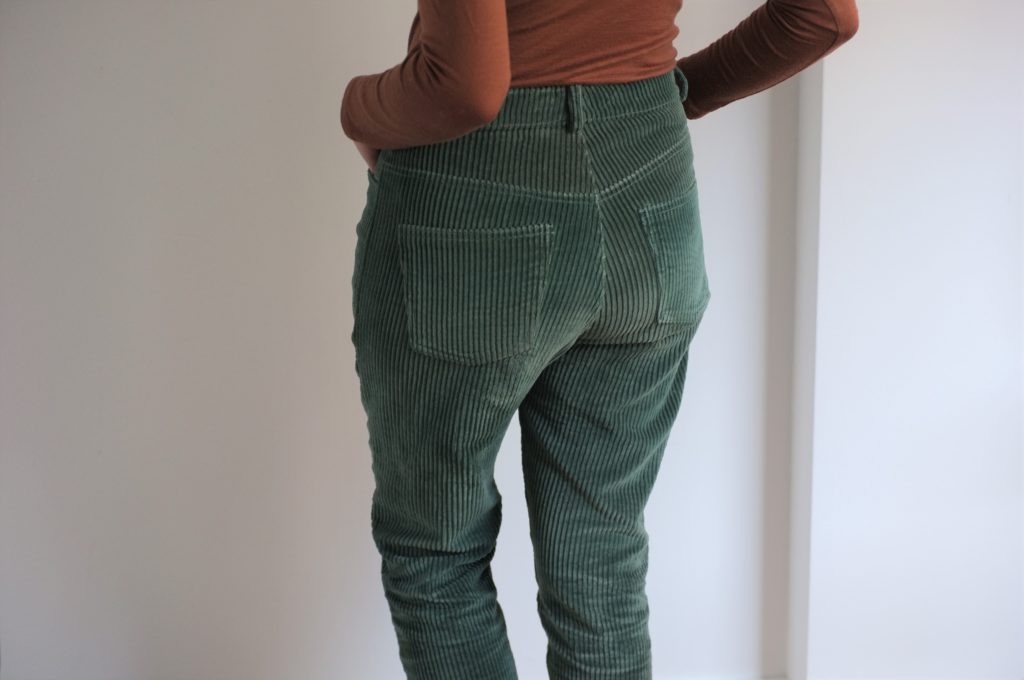 I really wanted to make a pair of corduroy trousers for winter but struggled to find the right corduroy (I wanted something really heavy) in an interesting colour. I looked everywhere until I realised that I had a suitable fabric in my stash, two pieces of heavy cotton corduroy that I had picked up at a flea market. In theory they would have been too small to fit the pattern; however, I am not one to get defeated by fabric limitations. Instead I got creative, chose the slim legged version, cut the waistband on the cross grain, the fly pieces from lining fabric (which was a wise move with this heavy fabric in any case) and left the legs as long as would fit on the fabric (which was shorter than I needed, but I decided I'd rather have cropped trousers than none). So in the end, everything fit, including back pockets, ideal! Next I had to tackle the colour of the fabric. It was a very uninspiring beige-grey. However, with a packet of Dylon dye in Emerald I was able to turn it into a dusty teal, which actually works perfectly with my wardrobe.
As I had read a few times that the Dawn runs small, I chose to go up one size. I made a quick muslin and realised that that would not have been necessary, so I took some width out again through the side seams. In the corduroy the trousers still turned out a little big, especially in the waist. Since I knew at that point already that I was pregnant though, I decided to leave them as they were, to be able to grow into them. And I'm so glad that I did, as they are the only pair of normal trousers that I'm still able to wear. They have been a life saver in the cold winter months. My husbands calls them my "sofa" trousers, which is fair, as this fabric most likely was upholstery fabric. I don't mind since they are so warm and cozy.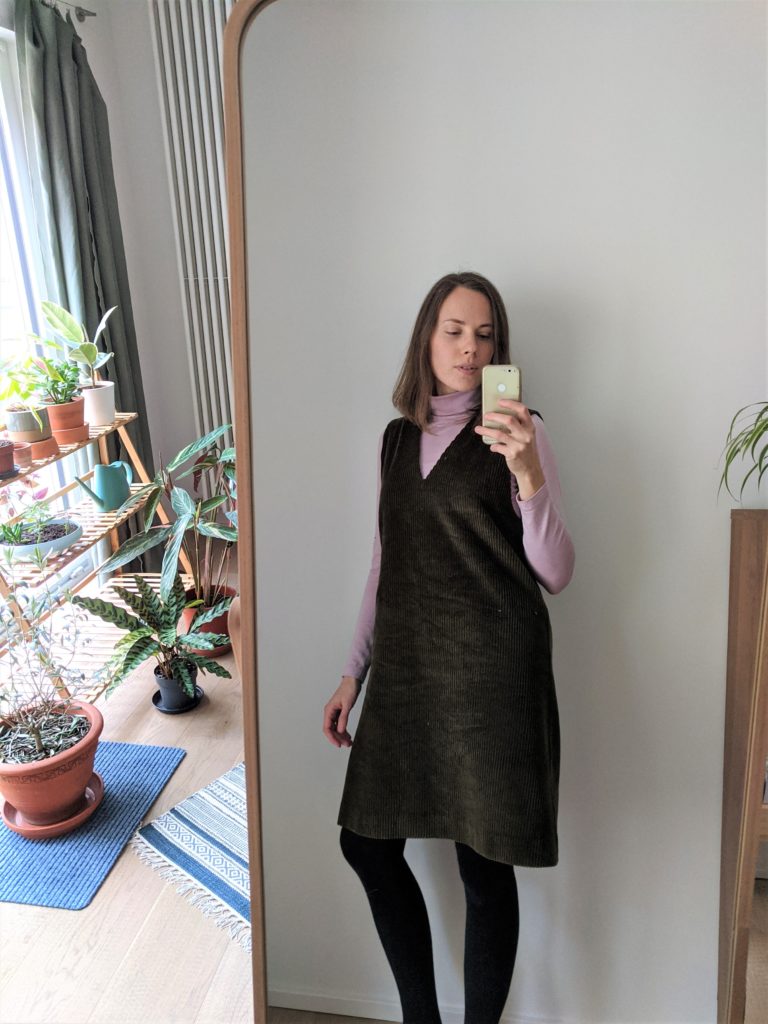 Finally, this olive green dress. Some of you might have a slight deja-vu. Didn't she make the same dress last winter? And you are right. I made a dress very similar, which I however, gave to my sister as she liked it so much. I figured if I really missed it, then I could recreate it again. And it turned out I did. So when I was visiting "Die Stoff Scheune" over Christmas (which is where I got the fabric last time) I was delighted to see they still stocked the exact same fabric. To switch things up, however, I decided to try a new pattern.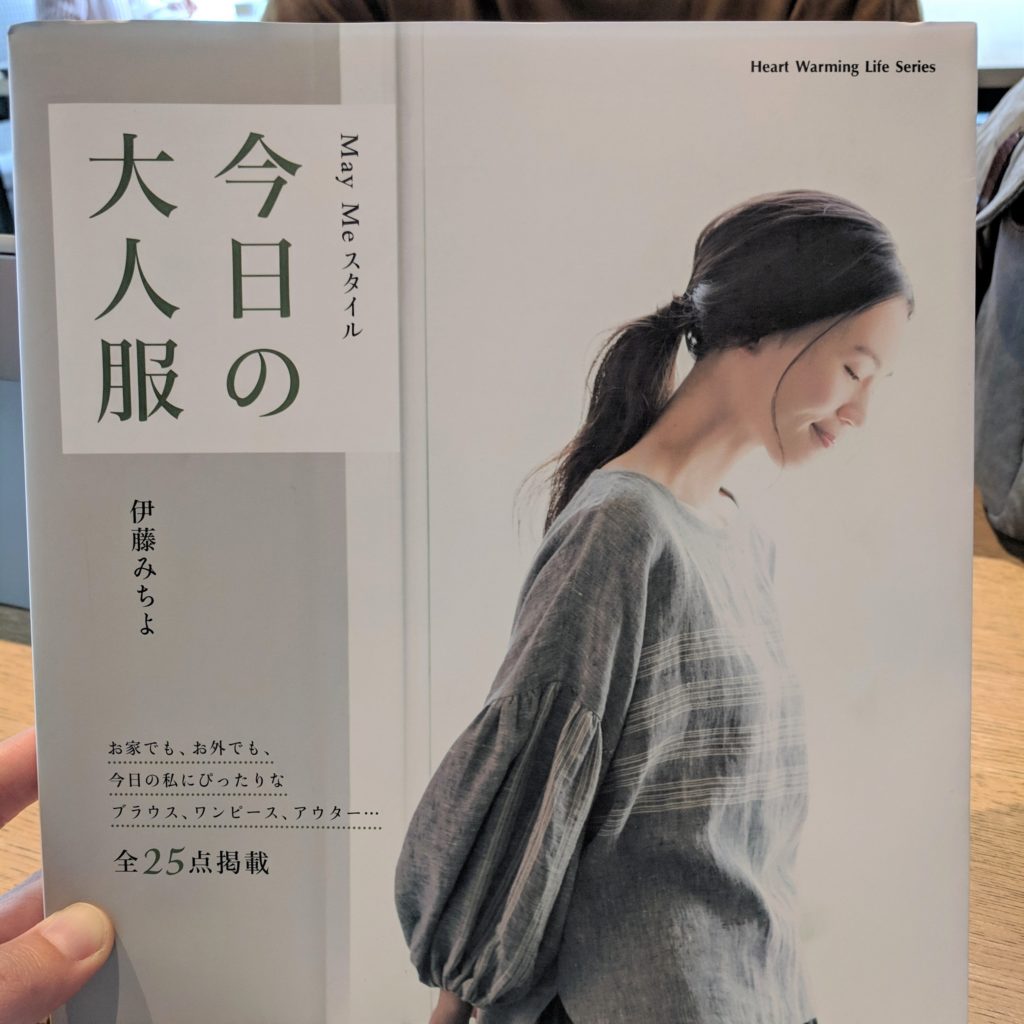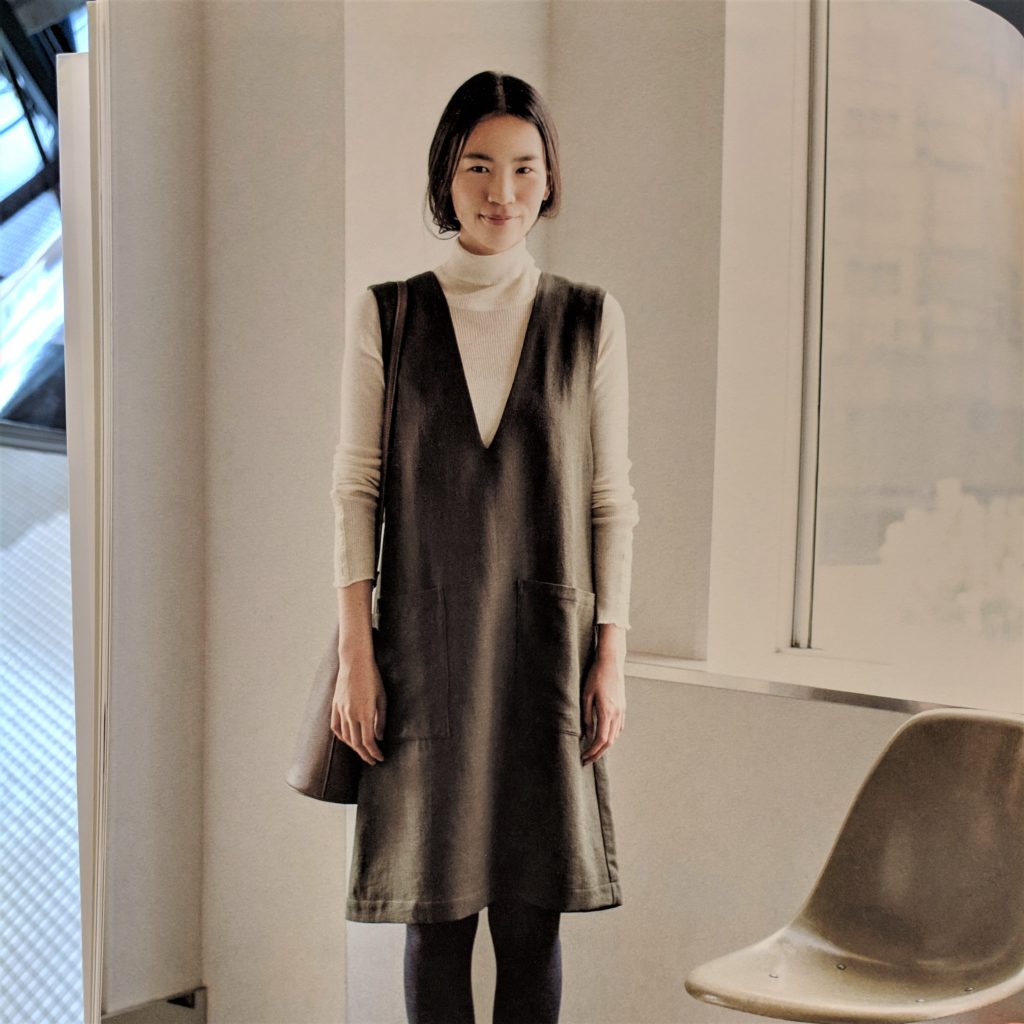 The original dress was self-drafted but in one of my Japanese Sewing books, I saw an almost identical dress, with a deep v, which looked interesting. I raised the neckline a little, left off the pockets (though I might add one still) and added some length. Other than that sewed it as drafted. I love Japanese pattern books! The diagrams are so clear, that within just a couple of pages, all the instructions are covered. There wasn't even a need for me to translate any of the text. The fit of the dress (a size L) turned out to be great too, the armhole shaping is perfect for this pinafore style.
Phew, that was a long list of projects after all. As I said in the beginning, I'm super happy with all these pieces and have been wearing them a ton. It showed me, that with winter sewing it all comes down to the fabric. Cozy, high-quality fabric in combination with simple/comfortable patterns is the key to a perfect winter wardrobe. It kept me comfortable throughout the dark winter months. While I really can't complain about my first trimester (just some constant nausea and tiredness), I still was very grateful for a wardrobe that felt like a warm hug.
I'm so glad though that we are now heading into spring. Dressing and sewing for the warmer months is still what I enjoy the most. So expect some pregnancy friendly sewing projects on the blog soon.
Finally, I of course have to mention the crazy situation we are in right now. I can't believe how much the world has changed over the last few months. Being pregnant during these uncertain times is definitely scary. We are already affected by COVID-19 through things like my husband not being allowed to join for the big ultrasound I had a couple of weeks ago, hospital visits being cancelled and prenatal courses having to switch to virtual. I'm glad though that the birth is still a while away (due date is in August) so hopefully the situation is a little bit clearer by then, especially the question of whether fathers are allowed to be present at the birth. There are positive sides to this situation too. Thanks to lock-down, my husband is not allowed to travel, and being out of a job for the foreseeable future he has all the time in the world to look after me and really be present for this pregnancy, so I'm not complaining.
For any other pregnant mothers out there, I hope you are holding up ok. I'm sending you all the love!