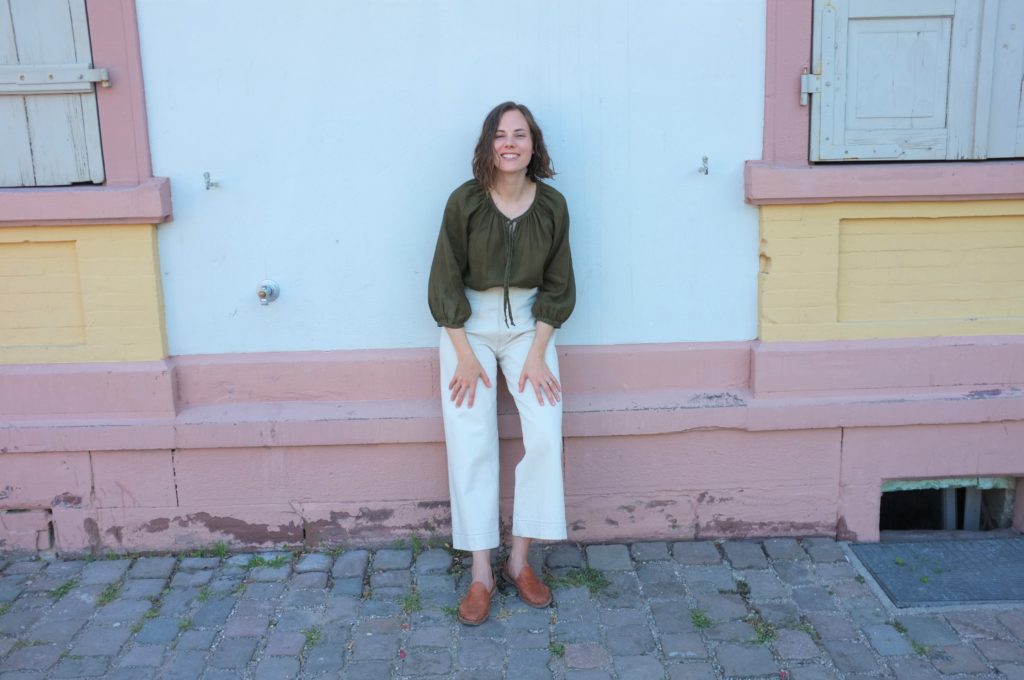 So, it feels like summer is slowly coming to an end. Time to take stock on my summer wardrobe. First of all, I love summer, it's my absolute favourite season to sew for! So it's not surprising that my sewing output for summer clothes is pretty high, which gives me a lot of garments to play with and figure out my ideal summer style. And guys this year I really figured out the formula for the perfect outfit!
Give me a pair of Persephones (long or short), a loose fitting top (preferably a Roscoe or a Blaire) and a pair of comfortable shoes. This really is my ideal summer uniform. (That and linen sack dresses, a love that's well documented on this blog). I'm so glad that I'm finally at a stage where I'm this happy with my wardrobe, in terms of shapes but also fabrics and colour scheme.
It won't come as a surprise to any of you that the Anna Allen Clothing Persephone Pants and Shorts made it on the list. These are my fourth and fifth pair and they go perfectly with the rest of my wardrobe.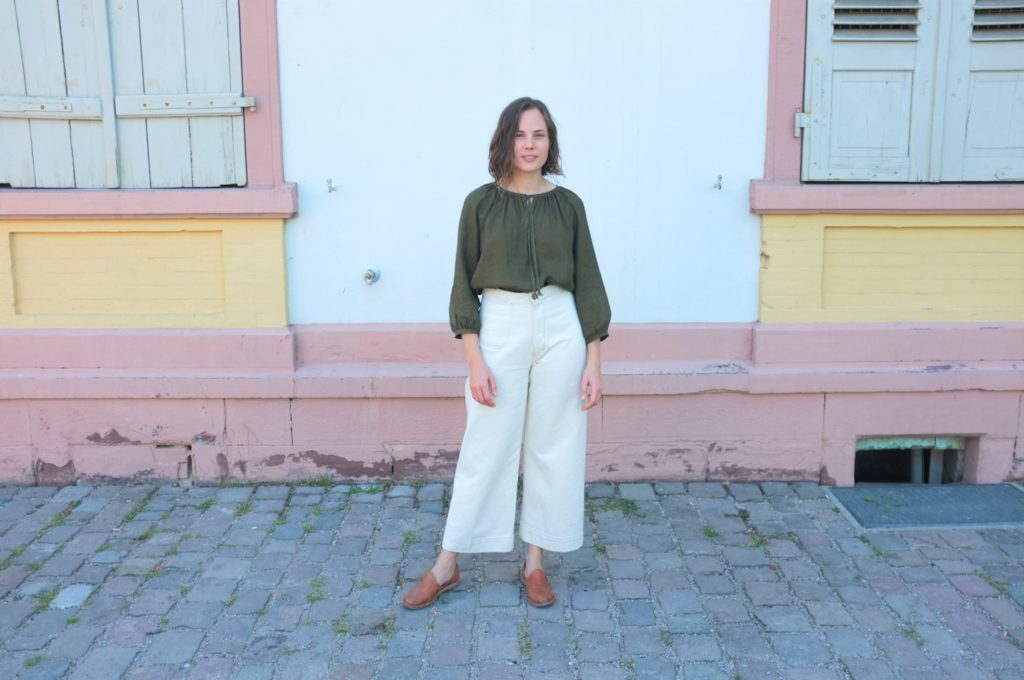 I've been dreaming about a natural white pair for ages but couldn't find a good quality natural bull denim. Then during the move I realised that I had enough heavy weight bull denim left over from my Tello Jacket to squeeze out a pair of Persephones. And by "squeeze out" I really mean squeeze out! I didn't even have enough fabric for a second pocket. Instead I decided to make it a feature and topstitch the one pocket. I've been meaning to try that out, as I find the pocket bags move around too much for my taste. I have to say I love the look. Though if I do this again, I will move the pocket slightly over towards the fly front to give it a more balanced look.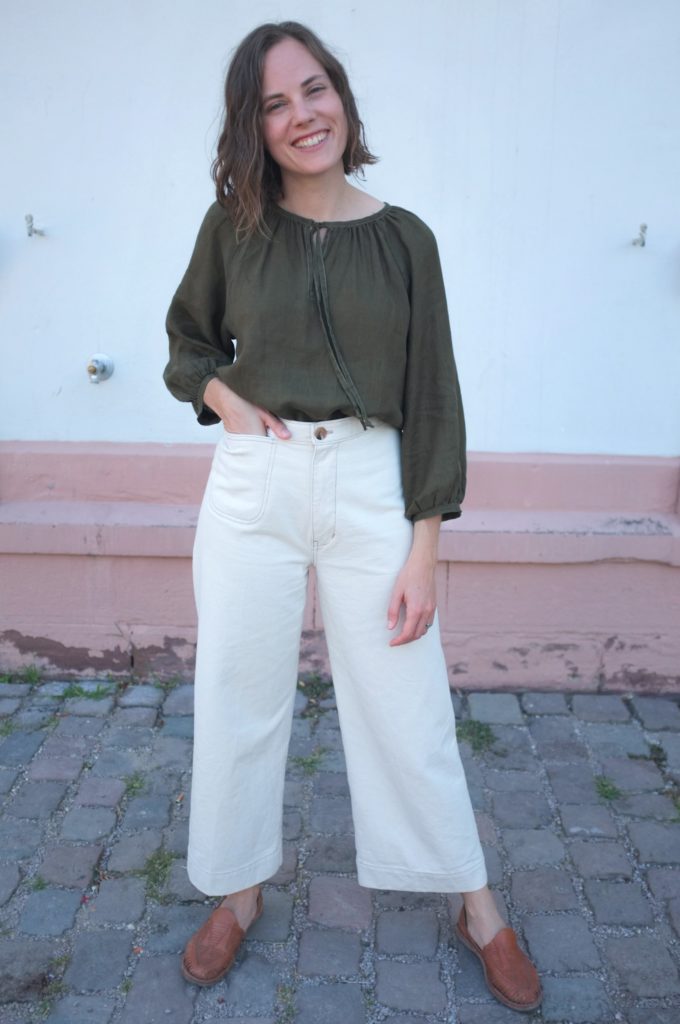 There is not much I can say about the construction of the Persephone at this stage. You can read about my adjustments here and here. The one thing I will mention though is that I batch-sewed these together with the shorts and it was amazing how quickly they came together. To speed up the process I decided to go with a top-stitching colour that would coordinate with both the natural white and the terracotta fabric. On top of that I finished the seams with a zigzag and used a triple stitch with the same thread to get the look of a top-stitching thread. That way I didn't have to change threads at all. This is such a fast way to produce two garments at the same time! And I love the contrasting top stitching on both.
I paired the white Persephones with a True Bias Roscoe Blouse. This blouse had been on my to-sew-list for ages but I only managed to sew it up for the first time earlier this year. I can't believe I've waited so long! It's the perfect blouse; so easy to wear and I just love those sleeves. I also really like how it looks in this linen fabric which gives the blouse a bit more structure than intended, and I'm totally into it. I will definitely need to make more of these.
A quick note on this colour. I'm completely obsessed with anything khaki/olive lately. This blouse though was originally a mustardy colour (see here). I loved the original colour but unfortunately the fabric faded like crazy in the wash and looked really worn out. To put the blouse back in rotation I decided to just dye it in a colour that I had lying around (Dylon hand wash dye in olive green) and I couldn't love it more. It's like having a brand new garment, and it goes so well with these Persephones.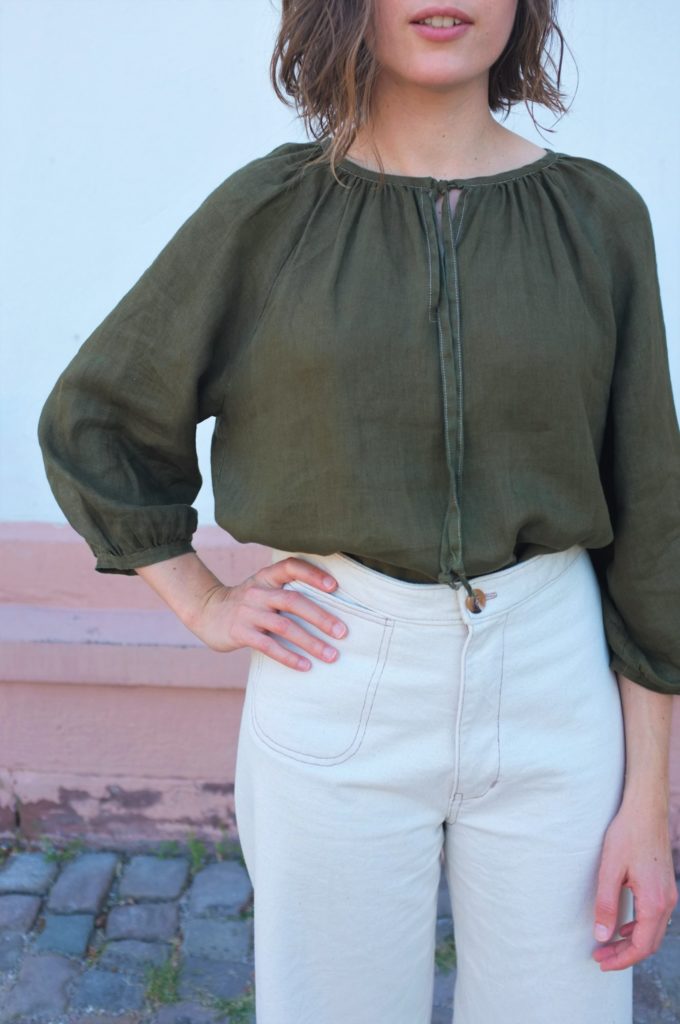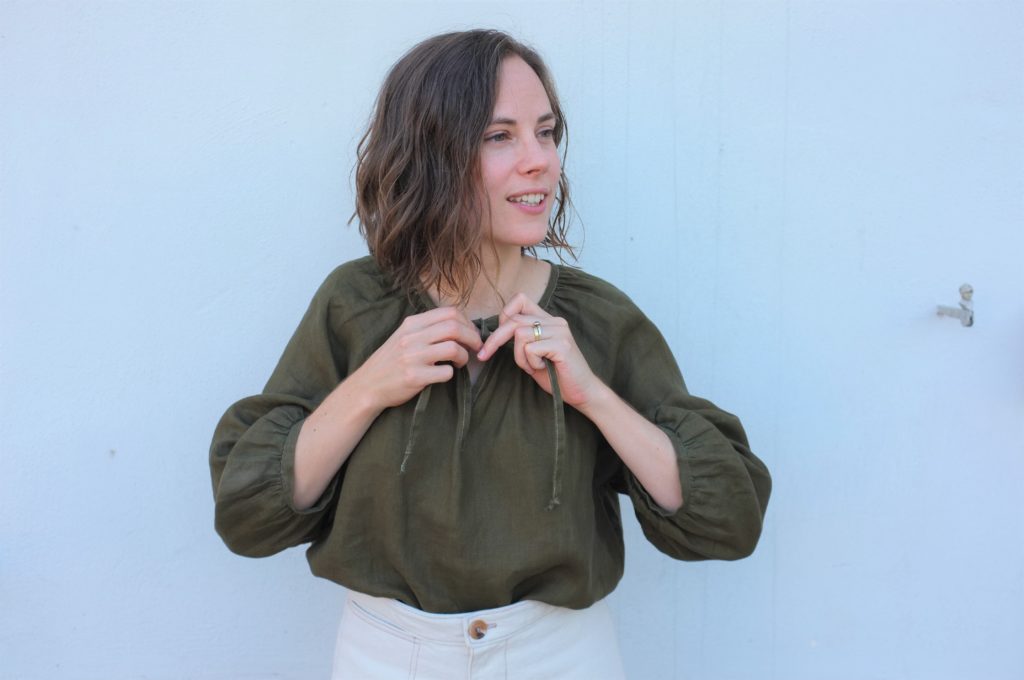 Another favourite pairing is the Persephone with my trusty Style Arc Blaire Shirt. I made this back in 2017 and it's been in heavy rotation ever since. The fabric is some white linen that I dyed with avocado skins and pits. If you are interested in the process, you can read about it here. Even though it's been worn on repeat for more than two years now, I'm really happy with how the colour has held up. I've washed it a good number of times on a gentle cycle and the colour has not faded much. It has changed slightly in hue though through all the sun exposure and is now a little bit warmer in colour. I actually love the fact that natural colours shift and change over time.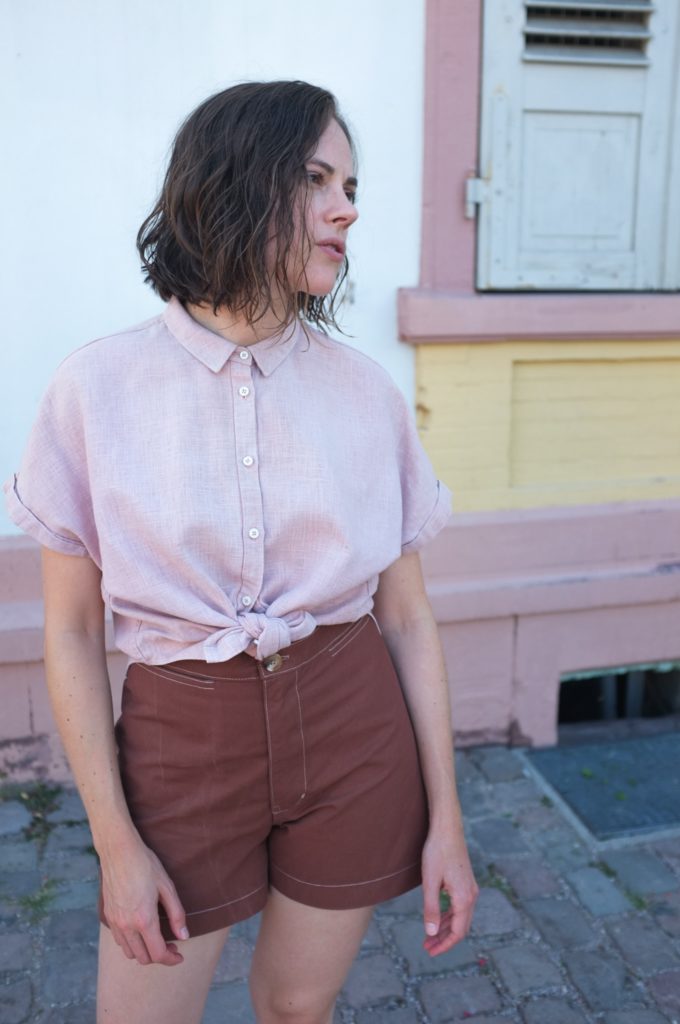 This pairing of garments is so great for hot summer days. The linen of the shirt keeps me cool and comfortable and while the shorts are short the high waist balances the shortness nicely and I don't feel too exposed.
The fabric for these shorts is actually the same as my long pair of Persephones. I had to play another round of pattern tetris to make them work with the piece I had left over. Luckily these shorts don't use up a lot of fabric; great for scraps!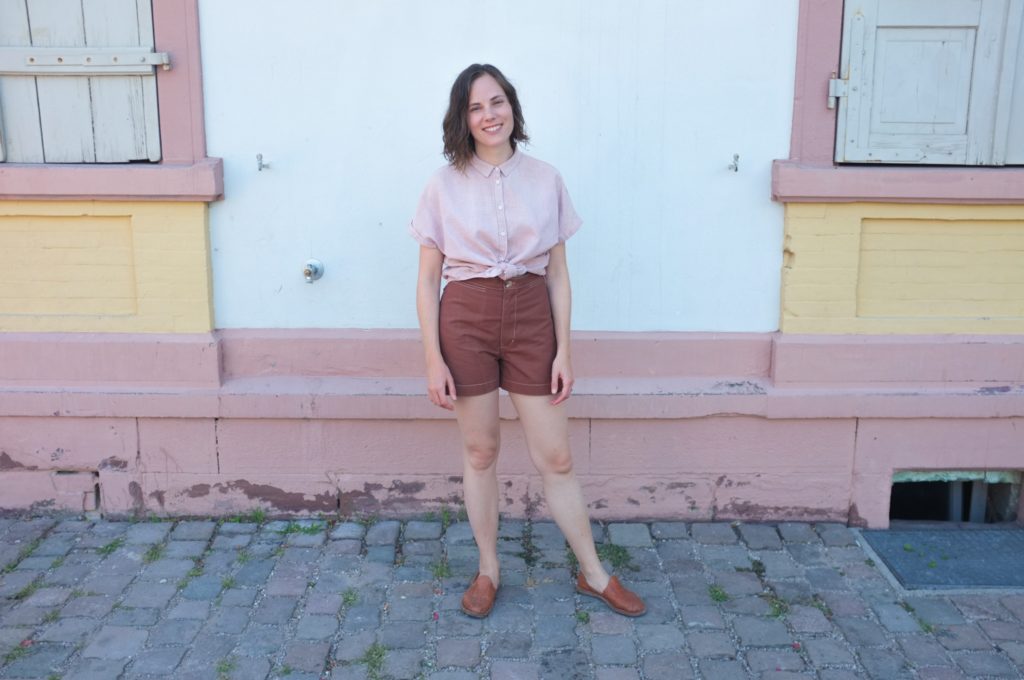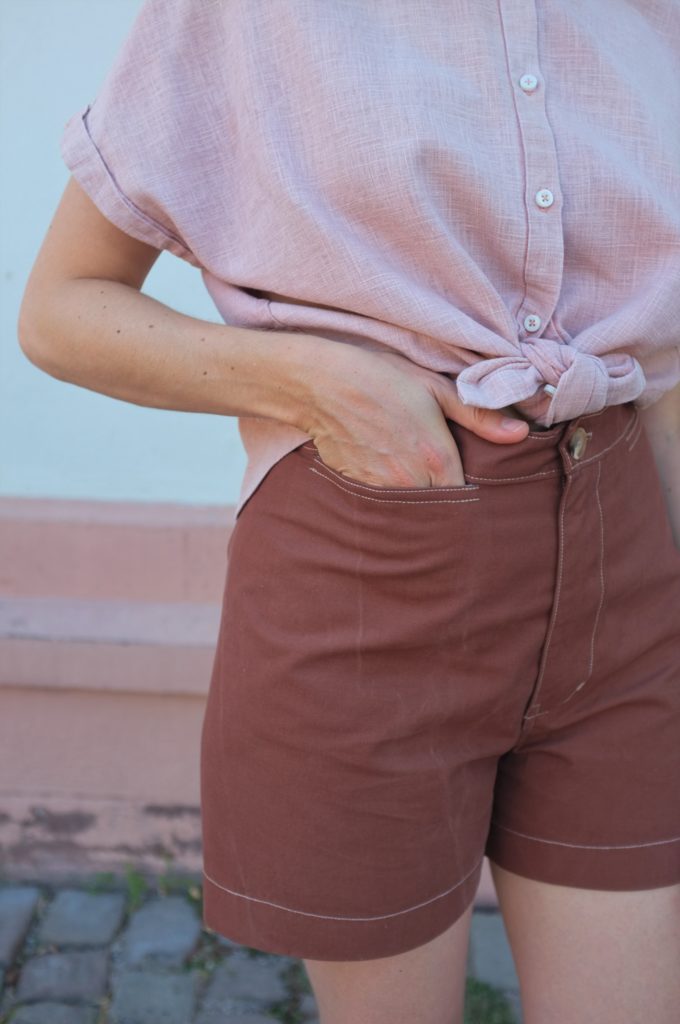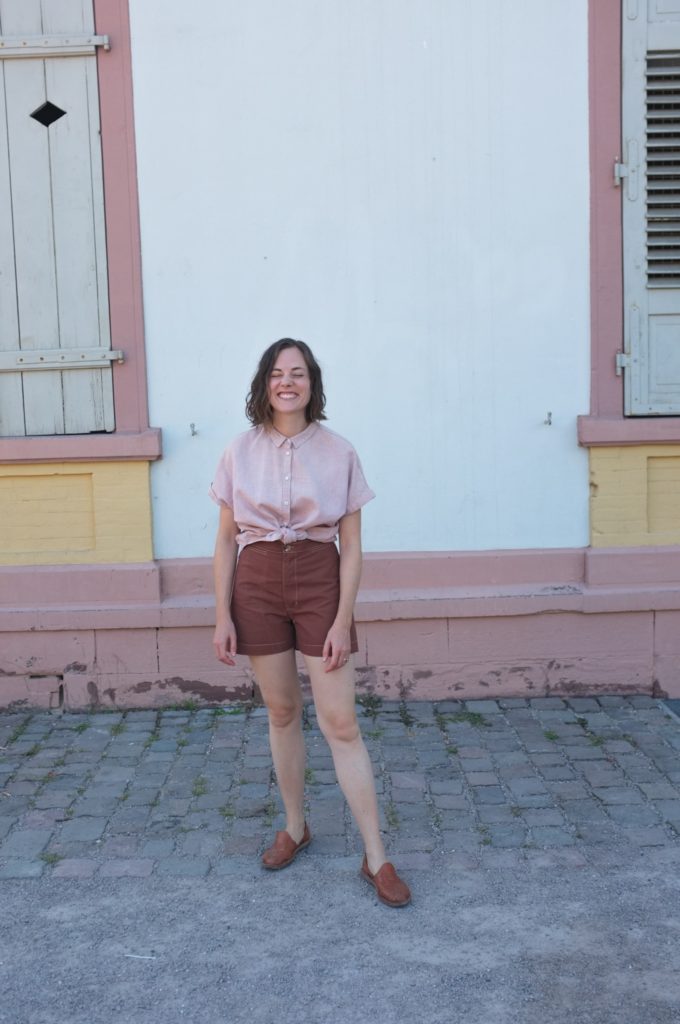 Last but certainly not least, let's talk about these shoes. If you have followed me on Instagram or have seen me in real life this summer, you know that I've been wearing these leather Huaraches non-stop.
There is a little back story to these shoes. The Germany based shoe company CANO Shoes reached out to me last year to ask if I would promote their Kickstarter campaign. As you'll know, I rarely do collaborations and in that case, they didn't have a product for me to test, so I felt uncomfortable to promote a product that I didn't know. However, I had been looking for the perfect pair of Huaraches for years, and never really found any that were ethically produced, easy to purchase in Europe and fit my style. So in the end I decided to back their kick-starter with my own money for a pair of their Huaraches as a reward. Lucky for me they managed to raise enough funds and when I got back from Japan this May, these Mara Huaraches in Natural Cognac were waiting for me.
I have to say these are great shoes. They took maybe a week to break in, but now they are the most comfortable pair of shoes that I own. They are perfect for summer as they let your feet breathe but still look like a closed shoe. And in my opinion they go with everything, trousers and dresses alike.
So when CANO contacted me again, because they are having a summer sale, I decided to collaborate with them after all. It's a beautifully crafted product and I love their mission on transparency and sustainability. If you have been looking for a pair of leather shoes for summer you can get them here.
And if you are more interested in making shoes than buying them, I encourage you to check out their Instagram where they regularly give insights into the shoe making process (check out their highlight on boots, so fascinating!).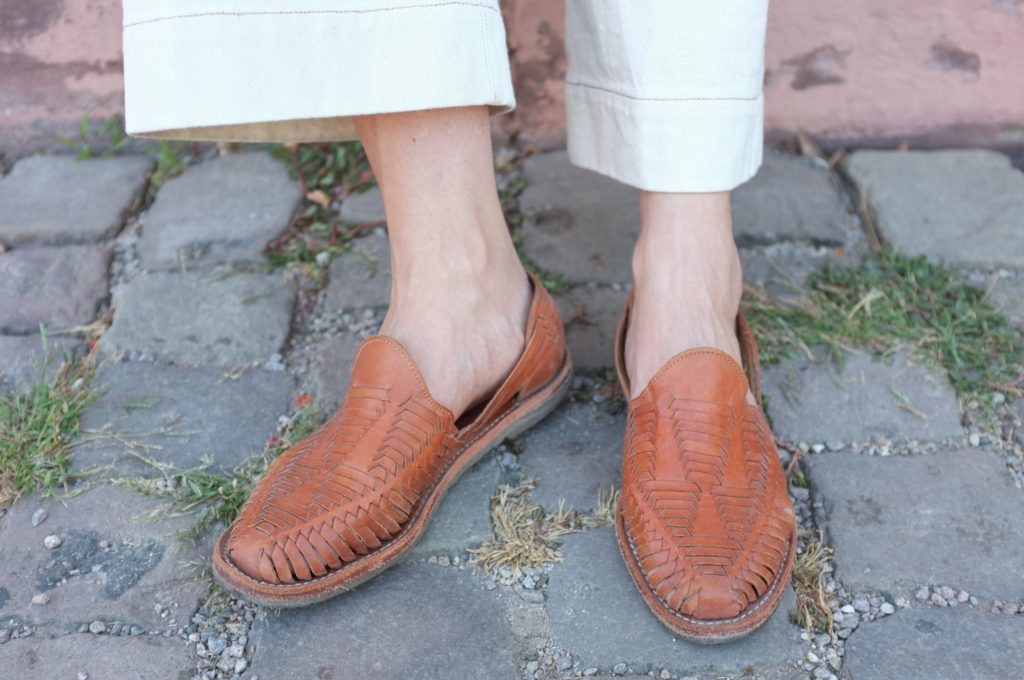 Disclosure: This is a sponsored post but all thoughts and opinions are my own. If you use the above links to purchase a CANO product, I will receive a small commission from the sale with no extra cost for you.