Oh wow – This post was supposed to go live months ago. I completely forgot about it and just now found the draft. While I've had my son over three months ago (more on that in a future blog post), I really want to share this dress since it was my absolute favourite dress during pregnancy.
This dress started with a trip to Paris over my birthday last December. Remember those times when we could just jump on a train to visit other countries? Ok, to be fair, it wasn't that easy either. At the time a big strike was going on in France, my train was cancelled and I had to take an overnight bus to get there. But I managed and met up with my husband and friends only half a day late. That weekend also was particularly special because it was the first weekend that I suspected I could be pregnant. As soon as I realised it might be the case, I felt completely different and we spent quite a surreal weekend with the prospect of having a baby (I took the test only when I got back from our trip).
I had been to Paris a few times before, so we didn't do the typical sightseeing. Instead we spent a quiet Friday to explore the fabric shops around Sacré-Cœur. There are so many shops in that area, but you really have to sift through a lot of ugly/bad quality fabric to find the good stuff. In the end I only bought fabrics in a shop that Saki (@sakijane) had recommended to me: Sacrés Coupons Au Gentleman des Tissus et Cuirs. They really have a great selection of beautiful wools, viscose and silks. I settled on a mohair wool fabric for a coat (which I haven't touched yet and probably won't until next winter) and this viscose leopard print fabric.
I've never been one to wear animal prints. But with every trend that sticks around for long enough, I'm slowly changing my mind and was intrigued to try it.
The Roscoe Dress by True Bias was the obvious choice for this fabric. I had made the blouse version in a linen before (see my blog post here) and was interested to see how it would work in a more drapey fabric. I also had plenty of fabric, so I decided to try the long dress version.
I decided to make the same adjustments for this dress as for my previous blouse version, i.e. grade out from a size 6 at the bust to a size 10 at the hip. The pattern has a lot of ease as drafted, but especially with the pregnancy, I thought it wouldn't hurt to have the extra space.
The one change I made to the pattern was to introduce a centre front seam on the bodice. This seam will give me the possibility to unpick part of the front top and add some hook and eyes to make the dress breastfeeding friendly. For now though I have kept the seam closed. This was a tip from Alyse (@maeandbjorn) who you should definitely give a follow on Instagram. Her wardrobe is amazing!
Not having sewn with animal prints before, I was very hesitant whether I would like the print for a whole garment but once I put it on, I was completely won over. The dress looks elegant and is super swishy to wear. To emphasize the baby bump, I also made a quick tie from the remnants, which gives the dress a little bit more shape. Though I like it untied too.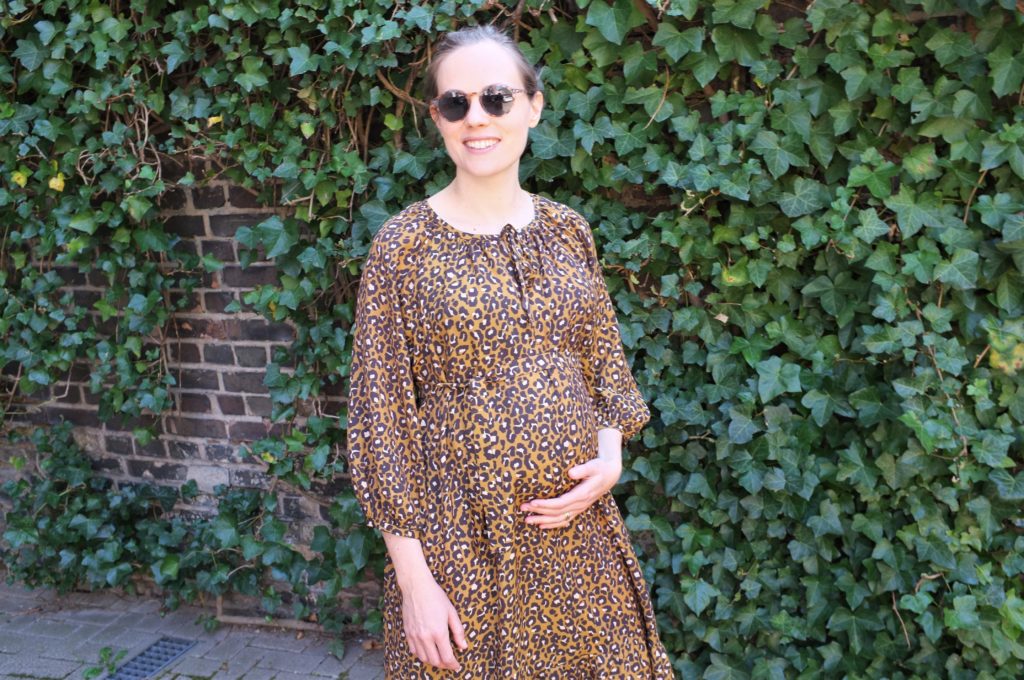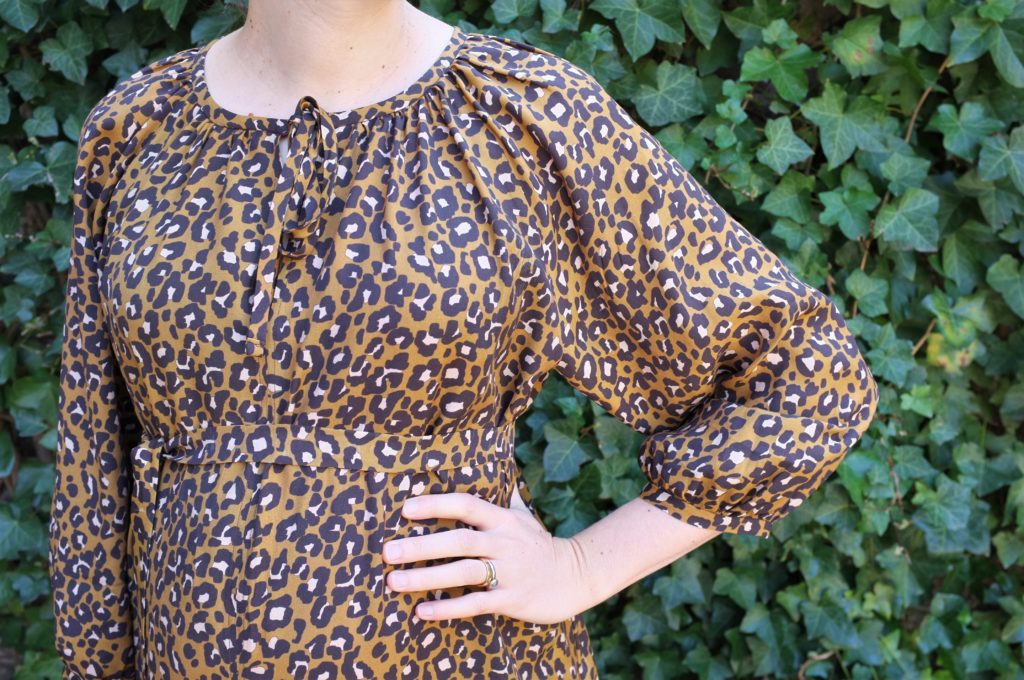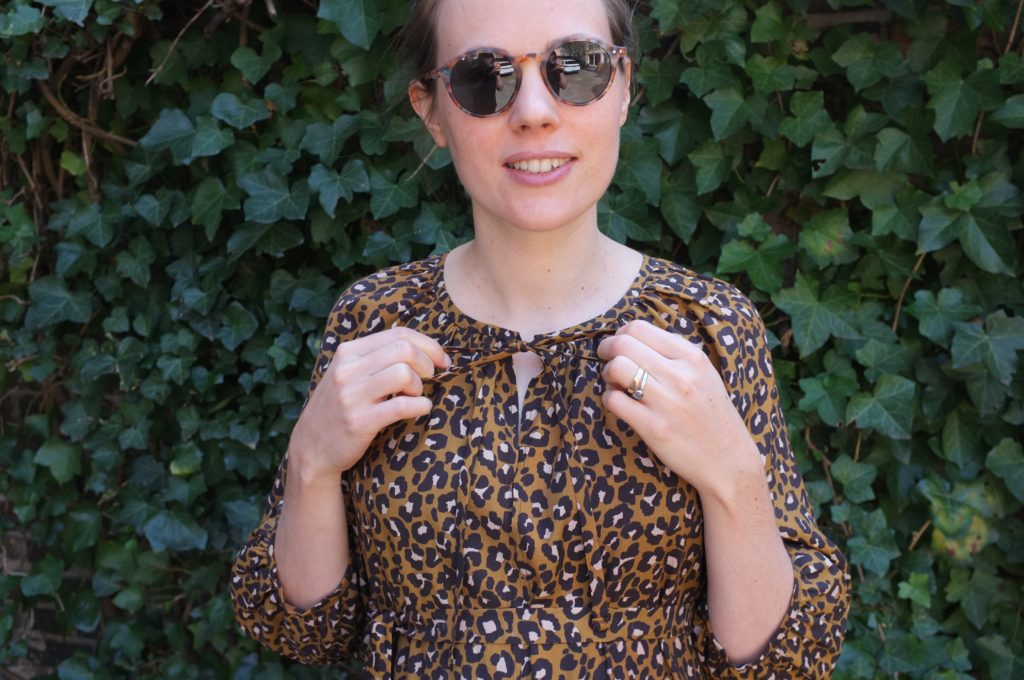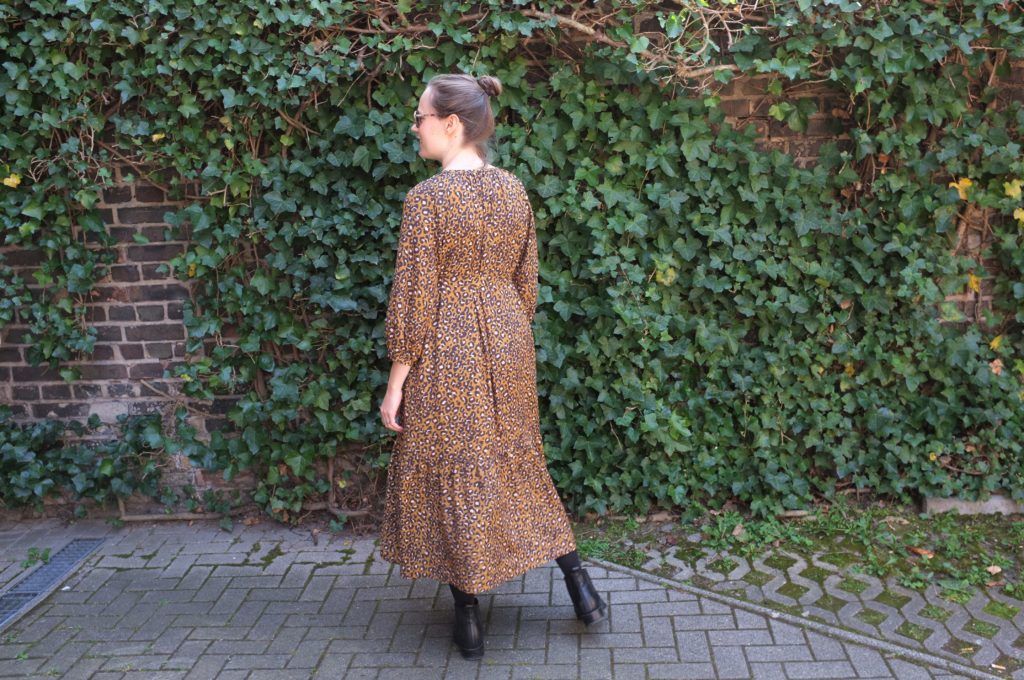 So all in all, this dress was a big positive surprise. I've loved wearing it, even if it is just to sit on our balcony and enjoy the beautiful spring days we've been having. It also helps that the bump finally looks more like a baby bump and not just extra weight due to all the quarantine food. It is finally time to emphasize it. I'm really excited to make more maternity friendly clothing like this. It's so comfortable but still looks put together.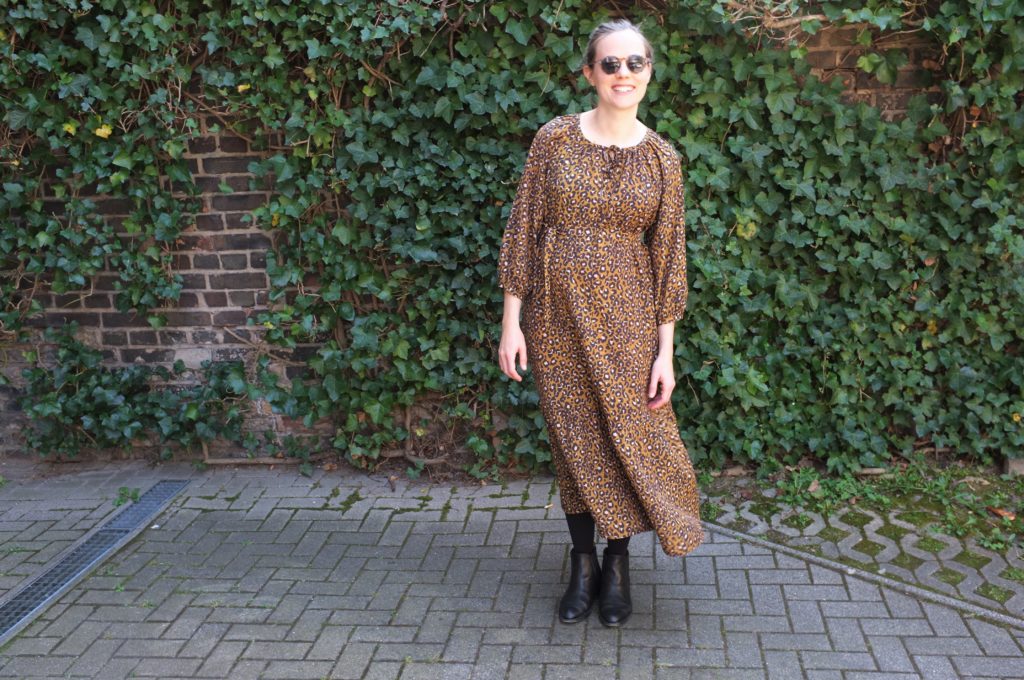 Hope you are enjoying the sun, wherever you are!